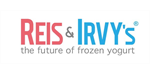 Reis & Irvy's - Frozen Yogurt Franchise
Reis & Irvy's Froyo Robots are fully automated serving kiosks that sell various desserts like frozen yogurt, ice cream, gelato & more!
Finance requirements

Total Investment: from $250,000 USD

Available areas

Australia, Germany, Brazil, Sweden, Mexico, Spain, New Zealand, Bulgaria, India, Poland, Thailand, Ireland, Portugal, UAE, Singapore, UK, France, Malaysia and South Africa
Profile

For the first time in history, robotic technology meets frozen yogurt franchising!
High-tech, robotic vending will quickly outpace less efficient trends in the frozen yogurt industry, making it even easier to access this unique market. With patents allowing our robotic units to be exclusive produced, Reis & Irvy's is at the forefront of this revolution, reinventing the business of frozen yogurt.
We have awarded 1,000+ robots and over 250 franchisees since franchising in 2016.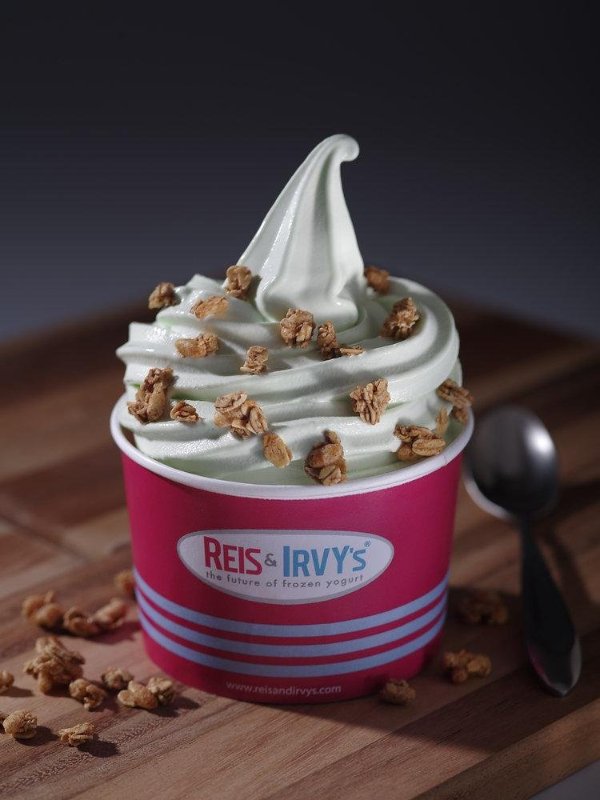 Reis & Irvy's fully automated robots are bringing the novelty of frozen yogurt, ice cream, gelato and other frozen desserts to consumers around the world. Franchisees set their units up in areas such as airports, malls, sports arenas, and locations that yield high traffic.
Once in place, the units attract consumers, collect money from selling desserts like frozen yogurt, and even report sales and product analytics to franchisees! It's the ultimate blend of technological innovation mixed with anticipation, fascination and sheer satisfaction.
Of course, you'll find the most exciting thing about this revolutionary new concept in frozen yogurt is the low maintenance and high efficiency of the Reis & Irvy's Froyo Robot.
Reis & Irvy's innovative technology is an entertaining attraction, generating buzz and profits at almost any high traffic location.
Requiring only a fraction of the investment, labor, and overhead of a retail storefront, the Reis & Irvy's frozen yogurt kiosk makes it easy to succeed. Mitigate risk and optimize profits via our tried-and-true infrastructure, while your automated unit runs itself.
Simply place the units in high traffic locations in your area and restock supplies when the robot notifies you its on low. The robot does the rest! 
If you're looking for an opportunity that delivers both customer satisfaction and revenue to you, we have both individual franchise packages and master license packages available for anyone to own their own fleet of Froyo Robots!
Building on a long-standing practice of creative franchising, we are industry leaders in high-tech, automated vending. Innovative, progressive, socially responsible business operations have fueled the success of our company, as well as its franchisees. Reis & Irvy's brings the future of robotic technology to the fun and excitement of frozen treats!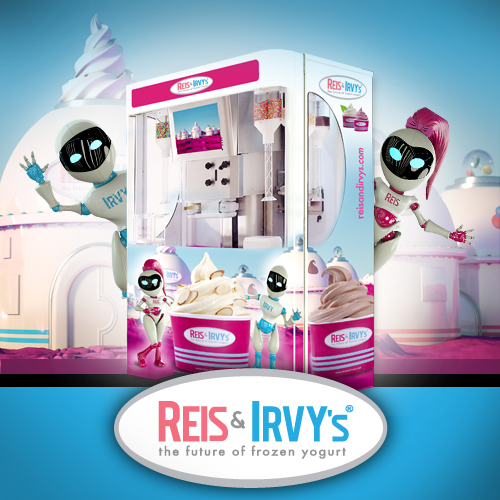 Small Footprint
No Labor Costs
Operates 24/7
Proven Franchise Model
Exclusive Patents
No Long Term Retail Leases
Customizable Flavors, Products & Toppings
High Margins!
Self Contained Kiosk - Fully Automated
Programmable In Every Main Language
Accepts Cash, Credit, Bitcoin, Google Pay, Apple Pay
Product Warranties & Servicing Included
Investment
Minimum investment: $250,000 USD
5 robot package: $300,000 USD
10 robot package: $600,000 USD
25 robot package: $1,350,000 USD
Master licenses starting at $500,000 USD (includes 5 robots & exclusive distribution rights)
Contact us today for more information.